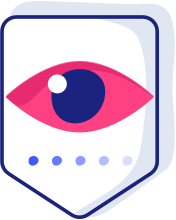 Screening
Anti-money laundering compliance with less noise and more automation.
Get Started
AML watchlist screening and PEP screening (Politically Exposed Person Screening) ensure that institutions are able to detect illegal activities like tax evasion, fraud, or terrorist financing and appropriately report these activities to the authorities. Automating your AML compliance process reduces your team's workload and helps your organization perform customer due diligence while adhering to best security standards.
Signs that you need a new screening solution
Our watchlist product is designed for common
issues that high growth companies face.
Screening that protects your business and reputation.
Sophisticated and secure
In complying with best practices for data protection, our watchlist screening API adheres to strict security standards across our organization, clients, and fundamental systems.
Simple and flexible AML
Flexible enough to meet the needs of your institution, Cognito's watchlist product can be scaled as your business requirements evolve to ensure easy and automated onboarding.
Maintain ongoing sanction screening
Simplify and increase the efficiency of your ongoing monitoring with detailed information from the most important sanction lists with Cognito. These lists are continually updated with new names, so Cognito provides real time results for the most accurate information and a seamless onboarding process.
Automated OFAC screening
Our watchlist product consults designated OFAC (Office of Foreign Assets Control) sanctions lists to identify individuals or organizations that are associated with targeted countries.
Cognito's screening product was easy to integrate and has helped us filter out false positives while maintaining a high quality sanction screening program.
Meg Nakamura
Chief Executive Officer

Automatically re-scan your users.
If you have an ongoing relationship with your customers, you need ongoing compliance. Cognito is able to re-screen hundreds of millions of users per month to catch any changes in the status of your customers.
If you have 1 million customers, this means…
Calculations are approximate.
A complete compliance CRM.
Improve your organization's efficacy and organization with Cognito's watchlist screening product. Track where your customers are in their process and allow your agents to visualize and triage cases with a beautiful interface and audit trails. Integrate with our workflow APIs for fine-tuned and automated management. Maintaining ongoing AML compliance has never been easier.
Rejected by Agent
Pending Review
Clear
A watchlist time machine.
Cognito keeps track of how watchlist hits on your customers change over time, giving you a detailed breakdown of new names, locations, passports, dates of birth, and everything required for investigations. Ultimately, we ensure that you're fully equipped to properly determine and navigate the risks of doing business with particular individuals, groups, or entities.
Industry-leading search algorithms.
Using Cognito AML watchlist screening product enables you to configure algorithms to meet your specific needs. Our search technology takes into account the day-to-day edge cases that occur with watchlist database and user inputs to provide a reliable and comprehensive list of potential matches for your customers.
See All Algorithms
Analyze. Optimize. Repeat.
With Cognito, you maximize the efficiency and overall abilities of your AML compliance program. Simulate sensitivity and program changes with samples of your real user-base to estimate how changes in your compliance program will impact agent workload and overarching goals quickly and easily.
Reduce friction by gradually verifying your user.
Choose our AML watchlist screening for a seamless user onboarding experience. Cognito is designed to startscreening your customerswith as little information as possible and then gradually fill out the profile of a customer, helping you screen them at every step of the way.